The entry door details that you will fall in love with
Although entry doors might seem very similar at first, they are certainly not. The Pirnar doors are distinguished by sophisticated details that distinguish them from the rest. You will know why when you see them yourself.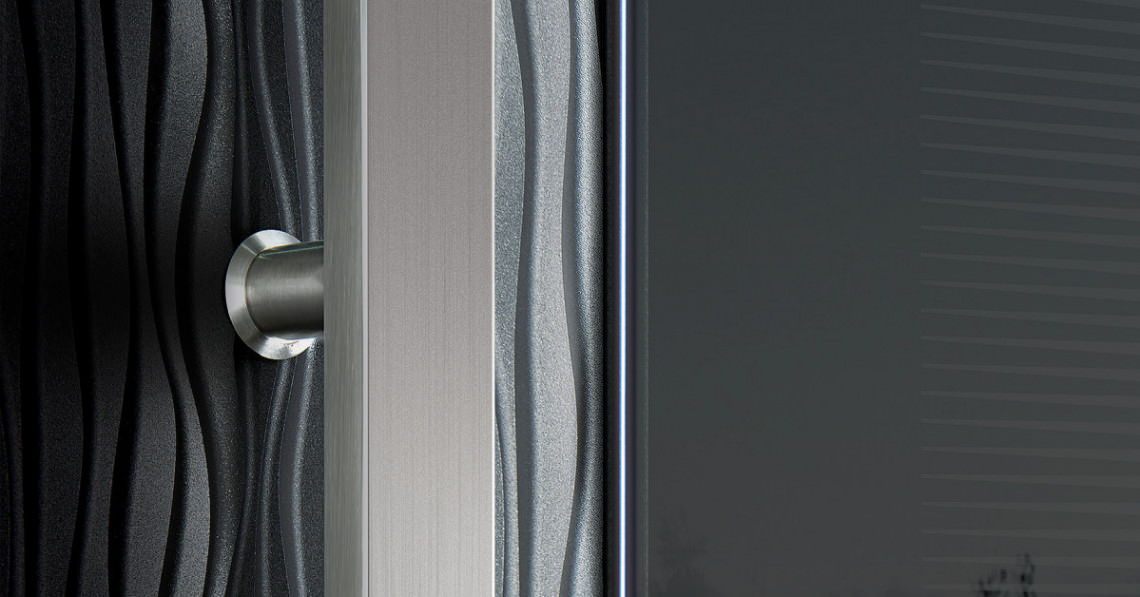 You may find that the entry doors of different manufacturers look quite similar. That may be the case when observing from a distance and at first sight. However, Pirnar entry doors are completely unlike anything else you will find on the market. You will notice that when you step closer. The essence is often somewhat hidden to the untrained eye. Our entry doors boast of precise details that you will surely fall in love with.
Texture of the material
The Pirnar entry doors are hand-made using selected materials. First, there is the traditional, warm wood. Spruce shines in its light shades with darker lines that make each door completely unique. Larch, on the other hand, has a dense wood structure and reddish tones that evoke a sense of luxury. Oak stands for stability and magnificence with its wide range of colours and patterns. Touching wood is a special experience and our beautiful products reflect the power of nature and the persistence with which the tree resisted the elements.
Aluminium entry doors offer a completely different experience. The most noticeable feature is the colour as there are no design limitations. As you step closer, you will also notice that the surface features different reliefs and transverse grooves. All the elements complement each other seamlessly, as if they had always been one.
Glass and crystal
Regardless if you desire wooden or aluminium entry doors, you can expect stunning glass and crystal details. We offer transparent, white, grey or brown glass for various glass surfaces, transom windows and sidelights. It can also feature different textures, patterns and motives. For lovers of traditional craftsmanship, we also offer stained glass. It expresses your particular sense for detail and respect for centuries-old traditions. Of course the variety does not end here. Special crafted coloured glass in shades of white, grey, brown and black can serve as stunning modern accessories for the entry doors.
Extraordinary glass-making skills are also evident in crystal. The pull handles may surprise you with artfully shaped crystal details that can even be illuminated. There is nothing that can highlight the individuality of your entry doors more than the play of light in a precisely cut piece of crystal glass.
Lighting
When the day ends, you will be greeted at the entrance with a light show provided by illuminated metal and crystal pull handles, gentle glow radiating from the threshold and sophisticated illuminated details. Night time is when your entry doors shine in a completely different light and invite you into the warm embrace of your home. Lighting does not only have an aesthetic, but also a practical value: the entrance is more secure and lets you conveniently find your keys, phone or other personal items.
Inscriptions
Be unique and display your own name on the entry doors. Your last name can appear on the pull handle, proudly stating who the lucky owner of this wonderful door is. The Pirnar doors also come with a winged horse nameplate, stating that this entry door was handmade exclusively for your family. This way, you will always be assured that we thought of you during the production process and that your entry door represents everything you have achieved. At the same time, we made sure that they bring luxury, beauty, warmth and security into your life.
Hidden pull handles
Traditional door handles have been replaced with modern and sophisticated pull handles. But nothing is quite like the Pirnar hidden pull handles. They are completely flush with the surface of the door and only appear when they recognise the owner. After you have entered, the pull handle merges with the surface once again and the door closes automatically. In addition to quite a show the pull handle puts on every time you arrive at your door, it also represents an extra security feature that can even enhance these otherwise already unbelievably secure entry doors.
Technical goodies
If the key and the lock were considered a symbol of security for millennia, it is time for a new era. The Pirnar entry doors ensure your safety with fingerprint readers. They are hidden next to the pull handles or in them and let you unlock the door with only a fingerprint. It is certainly very convenient because you can finally stop looking for and forgetting your keys. You can store the fingerprints of everyone who may enter into the fingerprint database so your entire family is taken care of. Since the fingerprint reader connects to a state-of-the-art tamper-proof locking system, security is never an issue.
Another way of unlocking the door is facial recognition. With Pirnar entry doors, you no longer need to take your hands out of your warm pockets. Theatrica doors will open before you even get close. They are the most personalised and technologically advanced doors, which have already received numerous awards for innovation and design. The entrance wall will certainly impress you day after day.
"What is essential is invisible to the eye," the Little Prince said. You will learn that, too. Only when you look at the Pirnar doors closely, you will find out how wonderful their details are. Therefore, do not hesitate to step closer, visit our showrooms, where you will experience hands on how amazing the Pirnar entry doors really are.
---
---
Catalogues
Download catalogues for the latest and most innovative Pirnar entrances. Browse them together with your loved ones.