The most beautiful modern front doors
Not only are the most beautiful modern front doors aesthetically pleasing, but they also provide a secure protection between you and the outside world.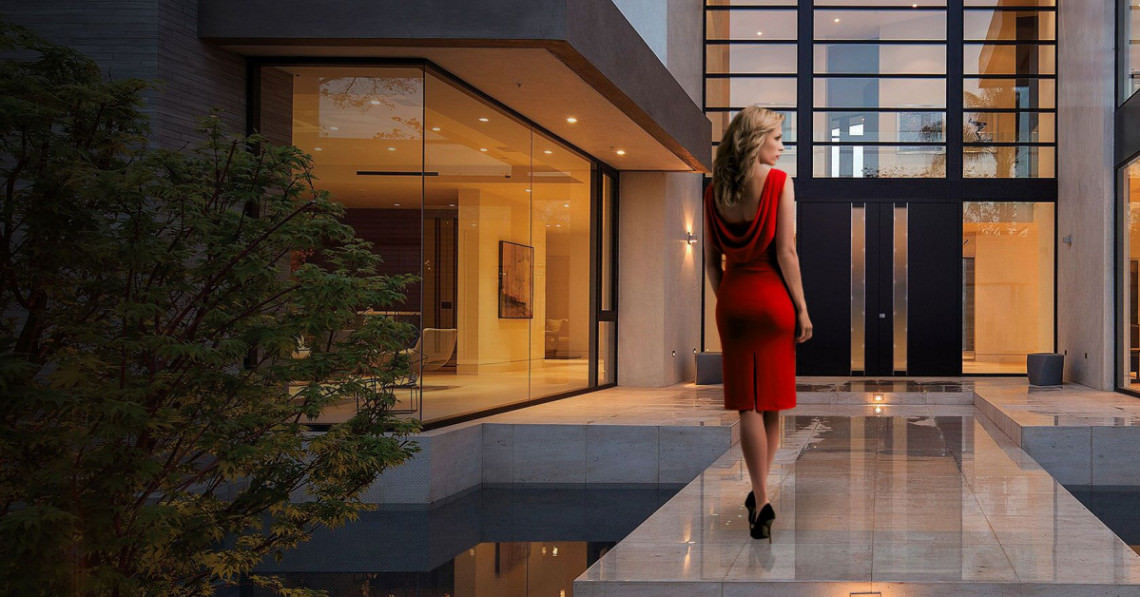 Front doors are your visitor's first impression of your house. They define the unique look and character of the house, so choosing the right style, shape and colour is very important. Of course, the front door not only has an aesthetic function, but also represents the physical boundary between the security and the comfort of your home.
Modern front doors can be custom made in different sizes, colours, shapes, and from a variety of contemporary materials that can be intertwined to create a unique entrance. The front door should stand out of the facade and be clearly visible to your visitors. If your façade is dominated by brighter tones, you can equip the front door with darker and warmer tones to make it stand out and create a touch of mystery. If you have opted for a darker facade, the front door can be accentuated with bright tones that will make your entrance feel larger and more luxurious. If you like vibrant colours, you can focus on the colour pattern that follows the interior of your house and connect it to your new front door as well.
High-quality doors provide the perfect look of your facade, while various quality materials and elements are a guarantee for a reliable opening and closing of the front doors, while keeping in mind their energy efficiency, safety and aesthetics.
Wood or aluminium
Aluminium is a soft material that is extremely robust, durable and environmentally friendly as it can always be recycled. Proper processing results in elements that withstand all possible weather and time challenges and, most importantly, require very little maintenance. This exceptional material is really versatile because it can be painted in every possible colour. If you want the warmth of wood but are not ready to maintain it, you can consider wood imitation aluminium and thus create the appearance of a wooden door with minimal maintenance. In addition to aesthetic perfection, this material is also extremely energy efficient.
Wood is a versatile building element that can be, with modern processing, transformed into a sophisticated design element that evokes homeliness and warmth, with a touch of nostalgia. When choosing wood, you can combine different colours and finishes to express your individuality and sense of aesthetics. Because wood is a natural material, it is an excellent thermal and sound insulator. Contemporary doors with a combination of different metal or glass elements on wooden surfaces will be a central work of art in your modern house.
Express your individuality
The front door is your greatest artistic element. You can play with it and give it your own personal touch. You can choose from different applications, materials, colours and even types of glass. Different glass types breathe life into your entrance. Special stained or etched glass accentuates your entrance and at the same time conjures up a play of light in your hall or hallway. If you like a full door model it doesn't mean you have to give up the natural light. You can play around with transoms or side windows, which will make your entrance larger and at the same time leave your visitors in awe.
You can also express your individuality with different handles and other accessories. Doors with a concealed pull, such as our special model with the system OneTouch with an invisible and retractable pull that can only be seen and used by the owner, represent the most personal front door in the world.
Make sure safety comes first
The front door must provide adequate security, which can be achieved with various anti-theft accessories such as alarms, multi-point and automatic locks or fingerprint locks. Nowadays, the design and technical procedures can be adapted to the style of the house and thus ensure a uniform appearance of the whole building. Elements in the same plane, exceptional dimensions and discreet illumination make for a modern and aesthetically pleasing appearance.
The Pirnar front door keeps your family safe, without compromising on design aesthetics. Every day you will enjoy the sophisticated details and exceptional robustness of the doors made by our outstanding masters. Trust our experts and visit us in our showroom, where we will advise and ensure you the highest security of your home!
---
---
Catalogues
Download catalogues for the latest and most innovative Pirnar entrances. Browse them together with your loved ones.